Mostly this is about me… Possibly a bit TMI!
I love to run! Specifically running outdoors on trails, but I'm also flexible… I'll also run on roads, track, and paved walkways – if there is a view – even if it is a view of trees and moss.
I love to run with others; it is way more fun that way. We laugh, tell stories, discuss running, life, kids, pets, whatever comes up. I also like history and natural history, plus current events. Ah heck, I'll pretty much talk about anything!
I'm usually training for some race (5k, 8k, 12k, road, track, trail, cross-country). I run in the rain, snow or sunshine – I am not a wimp! I love an adventure – running in parks, on the track, up mountains, on beaches, through cities, admiring all the sites – pretty much anything goes!
I'm a member of the Bastion Run Club and the Nanaimo Track and Field Club (masters division). When I joined these clubs, it was like I found "my people"! They are all enthusiastic about running, be it just casual or competitive, and love to support each other and socialize! What is not to like about that? I have found that by being a member of these clubs and through the coaching received, I have been able to up my coaching game!
I've coached running clinics at the Running Room in Nanaimo and have lead Boot Camps. And in terms of qualifications, I'm a BCRPA certified Group Fitness Coach as well as Boot Camp, and Outdoor Fitness Instructor. Recently I completed an Athletics Canada Road Running Instructor course. In addition, I continue to update my knowledge and have taken courses and workshops on weight training, fascial release, working with tweens, and working with people with chronic conditions. I'm qualified and ready to teach and coach!
I'm currently coaching the endurance running component for the Junior Development group of the Nanaimo Track and Field Club and loving it!
Along with running, almost as an antidote, I also love yoga. I practice regularly either at OmTown Yoga or on my own. The stretching, the releasing, the bending, the balancing, the meditation (and best of all the savasana!) all contribute to keeping my body tuned in.
Want to know what other folks think about GottaRun? Check out the Testimonials page.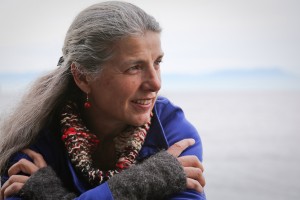 This is me, thinking about my next adventure (photo by Fiona Hawkes)