What's New:
Nanaimo Bars: the story and the recipe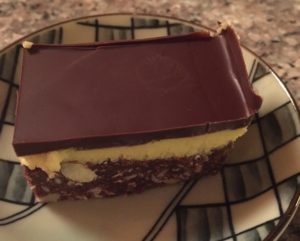 By popular demand and in honour of the festive season – after posting a photo of my homemade version on Instagram and my personal Facebook page – I've written a blog post about the noble Nanaimo Bar and have included my recipe, plus a childhood memory that is sure to embarrass my brother, Jim (isn't that what sisters are for?).
Vancouver Island Trail Race Series


I'm so excited to announce that I was selected to be one of the ambassadors for the 2017 Vancouver Island Trail Race Series. Which means I will be promoting the series and running the races. Watch for more news on my Facebook, Instagram and Twitter feeds!
Bootcamp Storm


I will be leading a fitness session at VIU starting Monday, Jan 23, 2017. See blog post for more details.
Summer and Fall 2016 events were moved into a new blog post.
Next year's racing events :